Peter Gammons has been hard at work going over scouting reports, talking to coaches, general managers and has come up with a rough edition of what the 2009 Draft may look like.



Pick #
Team
Needs
Pick
Analysis

1
Baltimore
C, 1B, 2B, SS, RP
Matt Wieters, C
No surprises here, folks. Wieters may be the next big deal in WSL. He's a switch-hitter with big offensive potential and superb defensive skills. He may not be Joe Mauer, but he should be close.
2
Pittsburgh
C, 3B, OF, RP
Tommy Hanson, SP
The Dawgs add to an already solid rotation by adding another potential ace in Tommy Hanson. Hanson will be a stud sooner rather than later thanks to his ability to get strikeouts in bunches and keep the ball in the yard. He is easily the best pitcher in this year's class.
3
Texas
C, 1B, 2B, SS, 3B, OF, SP, RP
Rick Porcello, SP
Texas has the luxury of needing practically everything here, so they take the best pitcher available. Porcello is only 21 years old, so it will take a few years before he solidifies as a big game starter for the Honkballers. However, he's good enough to start in WSL on day one. Once he figures out his control and limits his homeruns, Texas should see big returns.
4
So Cal
2B, SS, OF, SP
Elvis Andrus, SS
So Cal fills a gaping hole following a series of moves during the 2008 season in drafting Elvis Andrus. Andrus is a gold-glove candidate the moment he steps on the field. He'll never exhibit much power, but it's not out of the question to see him hit .270 and steal a few bases. He's a true throwback to the era of Ozzie Smith and co.
5
San Diego
C, 1B, SS, CF, SP, RP
Jordan Zimmerman, SP
The Madres continue to rebuild their pitching staff, adding the flame-throwing Zimmerman alongside Max Scherzer and Jake Peavy. Zimmerman has massive strikeout potential and keeps the ball on the ground, meaning he'll love the friendly confines of Petco Park.
6
St Louis
C, 1B, SS, 3B, SP, RP
Ricky Romero, SP
The Macs are known for trusting stats over scouts, so they fill a hole in their rotation with arguably the most WSL-ready of the available pitchers. Romero won't lead a staff, but he's a dependable #2 who will eat 200 IP and carry a sub-4.00 ERA year in and year out.
7
New York AL
C, 2B, SS, 3B, CF, RP
Gordon Beckham, 3B
The Narcs get a potential all-star here in Gordan Beckham. It'll take a few years for his power to develop, but the converted shortstop can hit for average, take a walk and provide stellar defense at the hot corner. This will be a huge relief to New York fans, since former 3B Edwin Encarnacion could not do any of those things.
8
Colorado
C, 2B, 3B, CF, SP
Trevor Cahill, SP
With gaping holes in the rotation and a rough year ahead, the Little Leaguers go for upside over Colby Rasmus or a more WSL-ready SP. Cahill is barely 21 years old and it shows sometimes. He'll give up a ton of HR early in his Colorado career, but as his body and skills mature, he could be Colorado's ace very soon. A high risk, high reward pick for sure.
9
Chicago AL
2B, 3B, CF
Colby Rasmus, CF
Faced with losing BJ Upton in FA, Chicago grabs Jim Edmonds 2.0 in Colby Rasmus. The lefty should have a long career of .300/.350/.500+ years with a peak of 30-35 dingers. On top of that, he'll shag everything that is hit in his path, something the other Firefly OFs will appreciate.
10
Cleveland
C, 1B, SS, OF
Andrew McCutchen, CF
The Gorillas go with the best bat left on the board here. McCutchen doesn't truly fit a need for Cleveland with Adam Jones the likely CF in 09, but he adds defense and speed to a team that sorely needed it in 08. It is not unreasonable to think McCutchen can hit .300 and steal 20-30 bags while becoming one of the best defensive right-fielders in WSL.
11
San Francisco
C, 1B, 2B, 3B, OF, RP
Daniel Bard, RP
The Lesbians' SP can give opposing managers headaches. Well, now the same can be said for the SF bullpen. Bard can break radar guns, at times throwing 100+ MPH. With that kind of velocity, secondary pitches aren't really needed. However, Bard has shown the ability to control his pitches with growing precision. This kid is the real deal.
12
Atlanta
1B, 2B, SS, 3B, CF, SP, RP
Brett Anderson, SP
The Gamblers catch a break with the towering lefty here. Anderson is an effective WSL starter on opening day, yet he may develop into an ace as he ages and harnesses the power potential in his arm. As it stands, he will need to develop his secondary pitches and become a pitcher, not a thrower.
13
Philadelphia
C, 1B, 2B, SS, RP
Brad Bergesen, SP
Philly immediately upgrades their rotation by drafting Brad Bergeson. The lefty isn't a huge strikeout guy, preferring to pitch to contact. However, he's ready to start on Opening Day; something sorely needed for the Athletics. He already is at the top of Philly's rotation, and in time, should be good enough to be high on any team's staff.
14
Detroit
C, 2B, SP, RP
Andrew Bailey, RP
After trading Jonathan Papelbon, the Autos required a closer that could terrorize opposing offenses. They've found one in Andrew Bailey. Bailey gives Detroit everything they could possibly want in a reliever: he keeps the ball on the ground, keeps walks down and mows down hitters with a variety of plus pitches.
15
Seattle
C, 1B, 2B, SS, OF, SP, RP
Matt LaPorta, OF
Seattle seizes the opportunity to add some pop to a team that has sorely needed it in recent years. LaPorta needs another year in AAA, but he should be Seattle's LF for the next decade. He offers legit 30 HR power, can swipe some bags and hit for average. What's not to like?
16
Kansas City
C, 1B, 2B, SS, OF, CF, SP, RP

Vin Mazzaro, SP
Kansas City could draft just about anyone here and upgrade a position, but they make a good choice here in Mazzaro. The Monarchs find themselves with a stable, if not stellar, SP rather than taking a risk on a more talented player. Mazzaro's stuff is fairly average, but his control and ability to keep the ball in the park seperate him from many other pitchers in this class. As he develops, his walk rate will fall and Kc can look forward to a number of successful seasons for the youngster.
17
Anaheim
C, 1B, 2B, SS, RP
Mat Latos, SP
Anaheim adds yet another young starter in Mat Latos to develop alongside 2008 picks Clayton Kershaw and Michael Bowden. Latos offers a nice mix of velocity and control, leading to a ton of ground ball outs and an okay number of swings and misses. He doesn't offer #1 potential, but there's little reason he won't win 15 games a year for the next 10 years once he is established.
18
Milwaukee
C, SS, 3B, CF, SP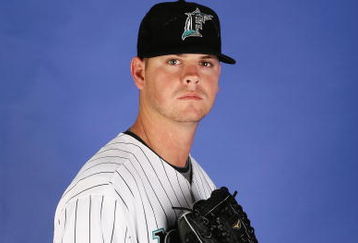 Sean West, SP
The Alchys take perhaps the biggest risk in the first round by selecting Sean West. The lefty has been compared to Scott Kazmir, for good and bad reasons. On one hand, West has the ability to lead a pitching staff and finish with 150+ K's every season. On the other hand, West is extremely raw and walks way too many batters to be given a full-time job.
19
Arizona
C, 1B, 2B, SS, RP
Koji Uehera, SP
Arizona has notoriously had very little patience for prospects, so it's no surprise they turn to the Japanese import Koji Uehera. It's difficult to say exactly how his success overseas will translate to WSL, but it appears Uehera is able to keep the ball in the park and keep opponents off their game with a variety of plus pitches. Arizona trades upside for dependability here, so Uehera should be a rock in the Swingers' rotation for years to come.
20
New York NL
SS, 3B, RP
Brett Cecil, SP
Without an infielder worth drafting at this spot, the ACs do what they do best: add to their rotation. Brett Cecil is stil quite raw, but he offers a great value this late in the first round. He's still too wild to make a real impact in 2009, but it is possible the ACs could try him as a 5th starter by 2010.
21
Toronto
C, 1B, 2B, 3B, OF, SP
Nolan Reimold, OF
Toronto takes the best hitter left on the board here in the right-hander Nolan Reimold. At the very least, Reimold will murder left-handed pitching his whole career. In time, he may develop into a solid, if not spectacular, everyday corner OF.
22
Florida
1B, SS, OF, SP, RP
Chris Coghlan, OF
If there's one thing Florida likes, it is versatility. They get that here with Chris Coghlan, who can play 3B, 2B and the OF in a pinch. His upside is limited, as he'll never be an all-star or like hit more than 10-15 HR in a season, yet he doesn't strike out much and has a solid eye at the plate.
23
Boston
C, 1B, 2B, 3B, CF, RP
Derek Holland, SP
Faced with rebuilding, the Chowds opt for a raw SP with enormous potential rather than reach for a bat. Holland has a tendency to give up the longball and will need at least two years before he's ready to contribute, but he could be a solid #2 if he pans out.
24
Chicago NL
C, 1B, SS, 3B, SP
Anthony Swarzak, SP
With a lack of offensive options with the last pick, the Juice take a dependable SP. Swarzak's upside is extremely limited due to his lack of velocity, but he is a safe bet to eat up innings in the CHN rotation for years.