Peter Gammons has been hard at work going over scouting reports, talking to coaches, general managers and has come up with a rough edition of what the 2012 Draft may look like.



Pick #
Team
Needs
Pick
Analysis

1
So Cal
1B, 2B, 3B, OF, SP, RP
Bryce Harper, OF
80 power, 80 arm, 80 hype, 80 arrogance...but produces the numbers to back that hype and arrogance up. He is not just a power masher; he's got great instincts, and I have seen him make adjustments within at-bats more rapidly than most major leaguers can. Even Christopher Hitchens would believe in Harper.
2
San Francisco
C, 1B, SS, OF, SP, RP
Trevor Bauer, SP
Bauer's the best SP in the draft, obviously. He's a fierce competitor with a live arm, but how quickly he can command his pitches will determine how quickly he becomes the Hooks' best pitcher.
3
Milwaukee
2B, SS, 3B, OF, SP
Will Middlebrooks, 3B
Middlebrooks is the one impact 3B in the draft so far. He provides plenty of power and on-base ability, along with a solid glove.
4
Arizona
1B, SS, SP, RP
Yoenis Cespedes, OF
Arizona ignores need and takes the high risk, high reward Cuban import. With a swing-first, full-power attitude, Cespedes could be Vlad Guerrero...or he could be Alfonso Soriano.
5
Atlanta
C, SS, 3B, SP, RP
Yasmani Grandal, C
Atlanta fills a big need with the best catcher in the draft. Grandal profiles as a .280/.360/.450 hitter with the potential to be a plus defender.
6
Boston
1B, OF, SP, RP
Yu Darvish, SP
Boston takes the best pitcher left on the board here. Darvish hopes to reverse the trend of failed Japanese imports in recent years. He flashes a variety of plus pitches, mid-90s velocity and plus command.
7
Detroit
C, OF, SP, RP
Matt Harvey, SP
Harvey's a power pitcher in every way. He'll rack up big strikeouts along with his fair share of walks. Whether he leads the Domos rotation or settles in as a big time closer rests on Harvey's ability to develop his changeup and breaking ball.
8
Texas
SS, RP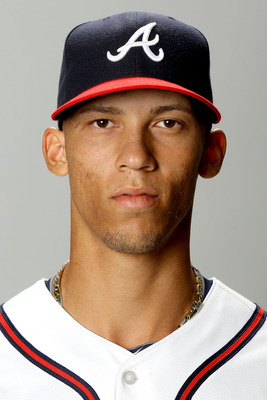 Andrelton Simmons, SS
Simmons could step in on day one for Texas and arguably be the best defensive SS in WSL. Texas will have to be patient as they wait for his bat to develop. However, what will the Honkballers do with former #1 pick Dee Gordon?
9
New York AL
SS, OF, SP, RP
Starling Marte, OF
The Narcs seem to fancy the hit tool over patience, so Marte certainly fits the bill. At his best, he could be a Carlos Gonzalez-esque XBH machine in CF.
10
Philadelphia
C, SS, 3B, OF, SP, RP
Noriachi Aoki, OF
Philadelphia sacrifices some upside to grab the WSL-ready CF. Aoki can do a little bit of everything, but is a master of nothing. Look for him to be a steady .270/.330/.430 #2 hitter for the A's.
11
Anaheim
1B, SS, OF, SP, RP
Wei-Yin Chen
The southpaw from Japan should slot in well behind Clayton Kershaw and Tim Hudson. Chen won't overpower hitters, but he shows plus control and poise on the mound.
12
Baltimore
C, 1B, 2B, OF, SP, RP
Quintin Berry, OF
Baltimore makes a bold move by going with Quintin Berry. Berry has been slow to develop in the minors, but a breakout 2011 has some GMs wondering if he could be a gem. Given a full season, he could post 30-40 SB with ease. How much he'll hit along the way is anyone's guess.
13
Florida
1B, SS, 3B, OF, SP, RP
Martin Perez, SP
Let's face it: Florida is rebuilding, so time isn't a factor. Thus, they'll go with one of the younger prospects in the draft in the soutpaw Perez. In a few years, the Gators could have a solid #2 starter on their hands. Perez could leave teams kicking themselves for not picking him if he reaches his potential.
14
San Diego
1B, 2B, SS, 3B, OF, SP, RP
Anthony Gose, OF
Gose causes many arguments in the scouting community. He has elite speed and defensive potential, but will he ever hit? The Madres may need to wait a few years to find out. Fortunately, if any team can take advantage of those tools, it's the Madres and their giant stadium.
15
New York NL
1B, SS, OF, RP
Kirk Nieuwenhuis, OF
The ACs play it safe with the lefty OF. Nieuwenhuis has the makings poor man's Curtis Granderson, with a bit less power and a better arm.
16
Cleveland
C, 2B, OF, SP, RP
Derek Norris, C
Cleveland fills a hole that's been open for years. Norris brings solid power and on-base skills to the table with questionable defensive value. Not surpisingly, he's drawn comparisons to Mike Napoli.
17
St. Louis
C, 2B, OF, SP, RP
AJ Griffin, SP
What Griffin lacks in velocity, he makes up with command. There's no reason to think he won't be in a WSL rotation for the next ten years.
18
Toronto
1B, SS, 3B, OF, SP, RP
Christian Friedrich, SP
Toronto goes for the upside with the southpaw SP. Friedrich has battled control issues in the minors, but he has great velocity. It's a risk, but at the end of round 1, who isn't?
19
Seattle
C, 1B, 2B, OF, SP, RP
Freddy Galvis, 2B
Galvis is an all-glove, no-bat 2B. Given Seattle's tendencies, he should be hitting 25 HR in no time.
20
Chicago NL
C, 1B, SS, OF, RP
Donovan Solano, 3B
Solano is a bit of an unknown, coming from the Dominican Republic. Early reports from scouts have him playing multiple positions, flashing some speed and showing good patience at the plate.
21
Colorado
C, 1B, 3B, OF, SP, RP
Chris Archer, SP
Archer is another high upside SP that has been held back by his poor control and command. In particular, his poor changeup leaves him vulnerable to lefty bats. If Colorado is serious about rebuilding, he's a nice lottery ticket.
22
Pittsburgh
C, 2B, SS, RP
Tyler Pastornicky, SS
Pittsburgh ownership seems to like flexible players and Pastornicky fits the bill. He has the ability to play SS, but 2B may be his eventual position. He doesn't do anything particularly well, but he does not have any glaring weaknesses either.
23
Kansas City
C, 1B, 3B, OF, SP, RP
Sean Doolittle, RP
Kansas City takes the best reliever off the board. Doolittle, a southpaw, has big strikeout potential and keeps the ball in the park. Sounds like a Monarch RP, doesn't it?
24
Chicago AL
1B, 2B, 3B, OF, SP
Robbie Ross, RP
The Fireflies love to stock their bullpen with big arms who might end up in the rotation later. Ross has fantastic control and a funky delivery, which keeps hitters off balance. The rich get richer here.